Blocked Drains?
We'll unblock your drains for £50 fixed price!
FREE CCTV Inspection Included With Every Blockage Cleared!
When we say £50.00 Fixed price we mean it!! Unlike other drainage companies, we have no hidden extras or sales pitches when Unblocking your Drain and we are willing to state it …
Blocked Drains? What's included within the £50.00 Fixed Price: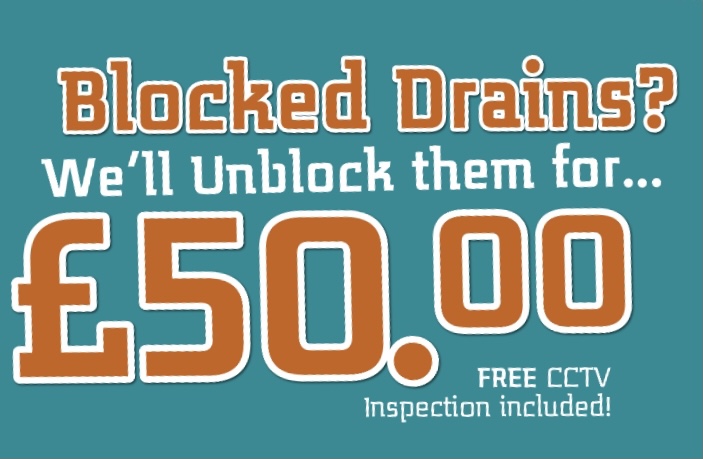 High Pressure Water Jetting or Rodding as standard to clear a single Blocked Drain.
CCTV Inspection with every blockage cleared. If our experienced engineers feel a CCTV camera inspection is required then we will do so at no Extra Cost.
Small External clean up of spillage from a blocked drain. We will clean around the affected area at no extra cost. If the drain has been leaking for some time then we may charge extra to clean down.
No hourly charges. We don't charge hourly to unblock a blocked drain.
No call out fees for a Quotation. We do not have a no clear no charge policy each visit will be chargeable.
Domestic Customers: Payment is required on completion at the end of each job. Preferred payment method is a Card Payment. Commercial Customers: payment will be required on completion for first time visits but can there after be placed on account.
All Prices shown are without VAT.
If we are there for 2 minutes or 2 Hours our Fixed price means FIXED Price to unblock yours Drains!
J&F Drains are specialists in unblocking drains for just £50 fixed price in Swansea, Cardiff, Newport and all surrounding areas. With All blockages cleared we complete a FREE drain inspection. We guarantee not to be beaten on price. We operate 24 hours a day 7 days a week and we do not charge any more for weekends and bank holidays. Our engineers are specialist and experienced drainage experts providing affordable, first-class reliable drainage services in Swansea, Cardiff, Newport and all surrounding areas.
Our services include Domestic and Commercial Drainage installation and repair, high pressure water jetting, home-buyer Reports, Drain Cleaning, Camera Surveys.
We understand that drainage emergencies and problems, such as blocked drains can be incredibly stressful, particularly when they are affecting your home. Our 1 hour responses, 365 days a year ensure any commercial or domestic drainage problems are dealt with quickly, safely and effectively. You will be back to normal in no time at all.
Whatever the size of the problem, as an expert in drainage services, we can fix it quickly, safely and effectively. Get in touch today!